TEMS is serving as a pass-through for the following information. TEMS has no additional information.
Please contact the original sender for any questions or concerns.
From: Greg Neiman <gregory.neiman@PROTECTED>
Sent: Friday, December 2, 2022 10:58 AM
To: Greg Neiman <gregory.neiman@PROTECTED>
Subject: FW: #VCUEMS VILT CE Series - Coping with Stress at the Holidays - Thursday, December 15th, 1900 via Zoom
Please share.
https://reg.learningstream.com/reg/event_page.aspx?ek=0082-0003-f9429782138e4812b4b91e9f67d115f5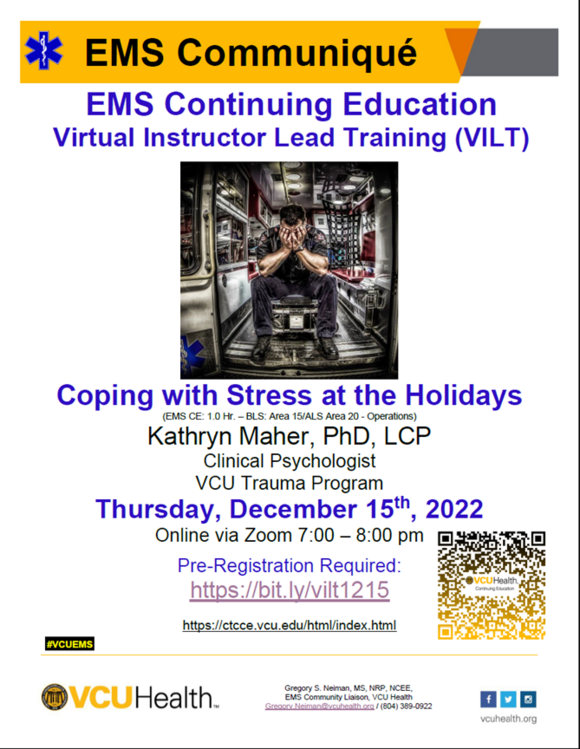 You are not alone. If you are struggling we can help
Safe Call Now – 1-206-459-3020
A 24/7 help line staffed by first responders for first responders and their family members. They can assist with treatment options for responders who are suffering from mental health, substance abuse and other personal issues.
Fire/EMS Helpline – 1-888-731-3473
Also known as Share The Load. A program run by the National Volunteer Fire Council. They have a help line, text based help service, and have also collected a list of many good resources for people looking for help and support.
Crisis Text Line
A service that allows people in crisis to speak with a trained crisis counselor by texting "Start" or "Help" to 741-741.
Copline (Law Enforcement Only) – 1-800-267-5463
A confidential helpline for members of US law enforcement. Their website also has additional information on help and resources.
Frontline Helpline – 1-866-676-7500
Run by Frontline Responder Services. Offer 24/7 coverage with first responder call-takers.
National Suicide Prevention Lifeline – 1-800-273-8255
The national (USA) suicide hotline. Not first responder specific, but they can and will talk to anyone who needs help. We've been told by one of their founders they have a large number of first responders and veterans who volunteer.

The Code Green Campaign – Mental Health Resources For First Responders
Greg
Gregory S. Neiman, MS, NRP, NCEE
EMS Community Liaison
VCU Medical Center





401 N. 11th St
Nelson Clinic
2nd Floor, Suite 204
Richmond, VA 23219
| | |
| --- | --- |
| C | 804.389.0922 |
| F | 804.628.7412 |