From David Long, Executive Director Tidewater EMS Council
Good afternoon Hampton Roads Regional Partners,
After months of research, coordination with stakeholders and planning for the delivery of whole blood in the field, the Tidewater EMS Council announced this critical new life saving program for our region. Initial roll out of the program includes an explanation of the Whole Blood Initiative, a Fund Raising Campaign, and a Blood Drive. Delivery of whole blood is scheduled to take place in early October 2022 in Virginia Beach with planned expansion to other localities as funding and training can be supported.
The Whole Blood Initiative (WBI) will provide whole blood to EMS agencies to administer to trauma patients experiencing severe blood loss in advance of being treated at a hospital. TEMS is spearheading this program because research indicates that trauma is the leading cause of death in those under 46 years of age and data shows up to 25% of trauma deaths are potentially survivable. Given the current violence we see all across the country (shootings, stabbings, assaults), the Whole Blood Initiative offers those impacted in our community a better patient experience and outcome.
Learn more about the program and how you can support it by visiting the Whole Blood Initiative Campaign webpage: www.Donate.TidewaterEMS.org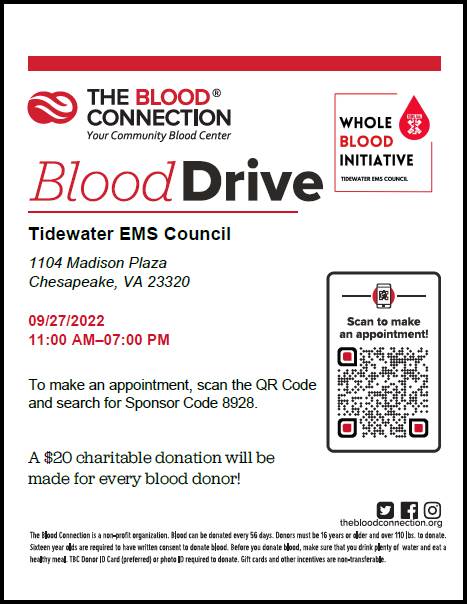 Sincerely, David
******************
David C. Long, MA, NRP
Executive Director
Tidewater EMS Council, Inc.
1104 Madison Plaza, Suite 101
Chesapeake, VA 23320
757-963-0632 x304 (office) Toll free 844-757-TEMS (8367)
757-963-2325 (fax)
757-739-6035 (cell)
"You will never see the end if you give up in the middle." -Joyce Meyer
This message contains confidential information and is intended only for the individual named. If you are not the named addressee you should not disseminate, distribute, or copy this e-mail. Please notify the sender immediately by e-mail if you have received this e-mail by mistake and delete this e-mail from your system. E-mail transmission cannot be guaranteed to be secure or error-free as information could be intercepted, corrupted, lost, destroyed, arrive late or incomplete, or contain viruses. The sender therefore does not accept liability for any errors or omissions in the contents of this message, which arise as a result of e-mail transmission. If verification is required please request a hard-copy version.